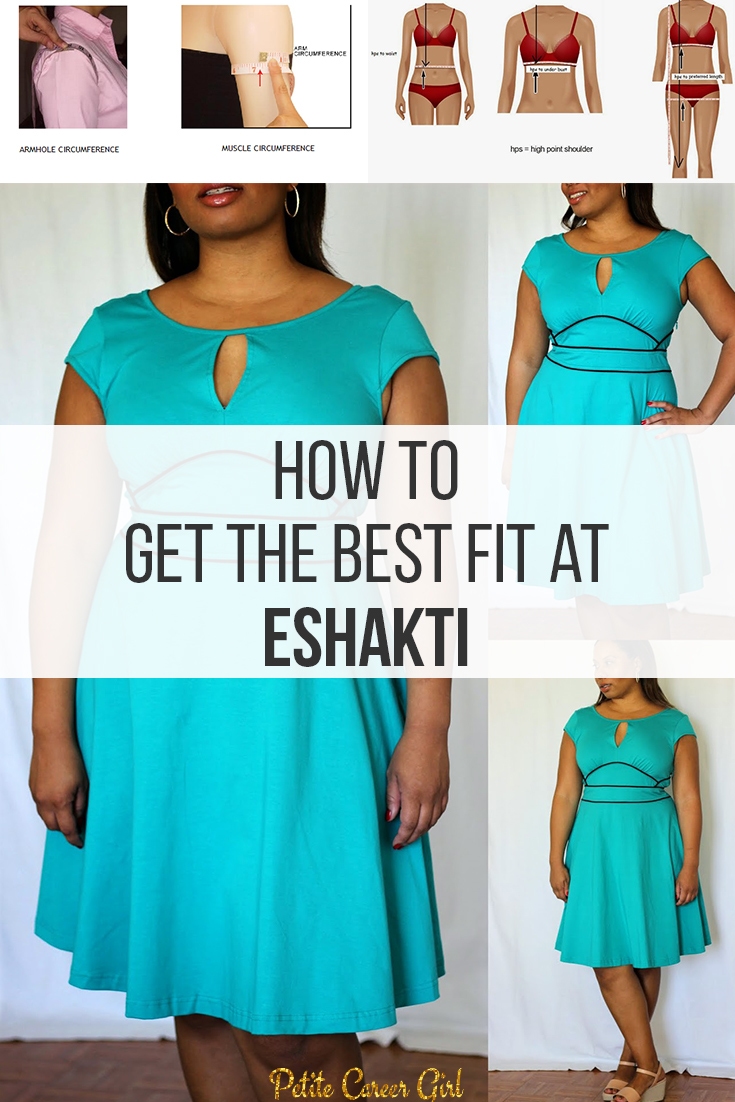 Hi Ladies,
I want to go ahead and say that this is not a sponsored post. Today, I want to share a second review of eShakti. I love the concept of eShakti because they customize clothes to fit your body, have prices close to what you pay at the mall and offer a huge range of sizes. If you are often frustrated with off-the-rack sizes, then you have to try them! If you remember, I received a beautiful purple dress to review from them in June. I was so pleased with my purchase that I ordered a few more dresses at their next "buy 2 get one free" sale. This is where the fun began and I had the opportunity to find out how to order a better fit for my shape. Here's what I got:

Dress 1

So, I thought this dress was a beautiful shape for curvy women (or anyone). I loved the detailing at the waist and the color. However, it was too tight under the arm and the chest area was as tight as a corset.
Dress 2

I've love these two-piece "dresses" that everyone has been looking fabulous in this year, so I jumped at the chance to have one custom made! I'm short-waisted, so I knew that an off-the-rack top would be too long. However, I ran into the same problems with this outfit as the one above, tight in the bust and under arm, plus it was tight in the waist.

Dress 3
I had the exact same fit issues with this dress as the black one above. :(
So, at this point, I was devastated. I really loved these dresses and the quality of the craftsmanship was excellent, but they were just too small! So, I did a few things:
I returned all of my items for a full refund. (I chose to get an extra 20% by getting my refund as a store credit.) One downside to returning is that I paid about $20 to have them shipped back.
I measured myself to see if I had gained any weight. I had :(. However, this didn't explain why the first dress still fit perfectly.
I put everything in a polite email and sent it to customer service. I told them how much I loved the concept of eShakti, but that all of my recent dresses were too long in the waist and tight under the arm. I wanted to know if there was anything I could do to improve my sizing.
The customer service representative was very polite! In addition to offering to re-do one of the dresses above for free, she told me that I should start including the following measurements with my orders:
High Point Shoulder to Under bust
High Point Shoulder to Waist
High Point Shoulder to Preferred length (as per the custom styling chosen)
Armhole circumference (in case you chose to custom style sleeves).



Plus, she included the following diagrams to show me how to make the measurements:
Verdict:
Customer service provided me with great information, because they don't ask for these measurements on the ordering form. (Probably because they don't want to overwhelm people by asking for too many measurements.)

Clothes are like boyfriends and steak...sometimes they don't come out right the first time (not that you can fix a boyfriend, but you can always "return and reorder") :). As someone who gets a lot of her clothes altered, I know how hard it is for a tailor to get it right the first time, and this is when he/she sees you in person and isn't creating a garment from scratch. Therefore, I commend eShakti for their concept...they have picked a hard (but worthy) hill to climb. I will order again, as soon as I can take those measurements above and will let you know how things go!

In the meantime, here are some tips that I've put together...I'd love to hear any of yours! :)
Before you go, I wanted to ask you to please vote for me in the Apartment Therapy "Room for Color" contest. Thanks for your consideration! :)
FTC Disclaimer:
All opinions expressed in this blog are my own, however if you decide to click on the links above, I may earn a commission for it. This doesn't cost you anything additional. These commissions help to keep the rest of my content free, so thank you!